Skip to Content
Business Material Design & Printing
Whether you need business cards, posters, menus, or another item to help represent your business or organization, Awesome Graphics is your one-stop shop for everything you need. We proudly design and print business materials for businesses of all kinds and sizes. We have got you covered no matter what you do or need. Our team of designers uses only the best materials and ink for every job we do. We provide a variety of services so that you can elevate your business or organization to the next level. When you choose to work with us, you will get only the best service and best products possible.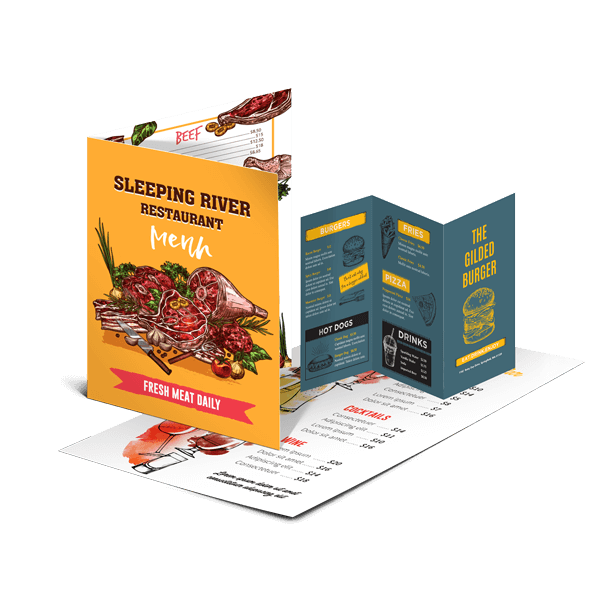 Bookmarks, Menus, Post Cards, & More
From envelopes to door hangers to stickers and magnets, our team can design and create any business material you need. Our team not only prints your graphics in-house, but our experts can also help design and create your graphic for you. We are in the business of giving you the exact product you need, which is why we help create custom graphics to help enhance your business or organization. The wide range of business material services we offer include:
Bookmarks
Menus
Business Cards
Note Pads
Door Hangers
Palm Cards
Envelopes
Post Cards
Event Tickets
Posters
Flyers & Brochures
Rack Cards
Greeting Cards
Roll Labels
Letterhead
Stickers
Magnets
Brand Recognition Done Right at Awesome Graphics
Making sure your company looks sharp is made easy with our business material services. Awesome Graphics helps make brand recognition simple and easy with our in-house printing and design services. When it comes to standing out from the crowd, it is vital that you have access to the necessary business material graphics. We can help you create the look you desire or help you print a look you have already created. Our team of graphic designers is more than happy to help you get exactly what you need to make sure your business gets the traffic it deserves. You have worked hard to get up and running; let us take it from there. Get your business materials today from our team and contact us to get started.